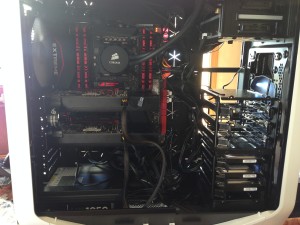 I've been wanting to build a new PC for a while now. My old desktop machine, while still powerful, has become woefully obsolete. The motherboard only supports PCI Rev 2, a maximum of 8GB DDR2 memory, and is a strange (BTX) form factor to boot (pun intended).
After researching the topic for a number of months, I decided I was finally ready to take the plunge.
I do a lot of video work, so I wanted to build a PC that would really shine when it came time to render files in Adobe Premiere and in Adobe After Effects. A machine like that specs out quite similar to a gaming PC. These machines are at the high end of the spectrum, which is actually where you can save a lot of money by building yourself. A system equivalent to mine costs about $1,000 more at Dell than what I was able to build it for.
Building a PC seems a little intimidating, but really there's not much more to it than attaching a few screws and plugging in a number of connections. All you need, really, is a Phillips-head screwdriver and a lot of patience. My son commented, standing behind me and watching me about halfway through, "So, this is your latest Lego, huh?"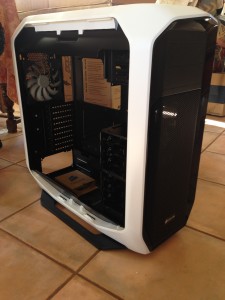 Everything starts with the case. I knew I wanted a larger one, both to hold multiple components (especially graphics cards) and to provide working space to make assembly a little easier. My existing case was quite large, so there wasn't any danger of getting something too big to fit into the space I have for it. I decided on this Corsair Graphite full tower case, which easily fits a e-ATX motherboard. I liked the look and the color.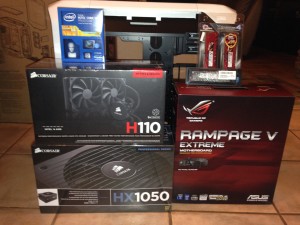 When ordering components, I decided to stay with one brand as much as I could, to better ensure that all the parts would fit together. I did a lot of web research to make sure, and I'm glad to say the work paid off; everything fit great. If we'd had a Fry's handy, I'd've gone down and bought from them. As it was, I ordered everything from Newegg. Shipping was really cheap ($7 for everything) and they had everything to me in 3 days. I spent that time carefully studying download versions of all the component manuals, the motherboard especially, so I'd be ready to build that coming weekend.
After the case, it really all comes down to the motherboard. Your choice of mobo will determine what processors you can use, how much memory you can install, how many graphics cards you can have, how many hard drives your system will support, and much more. Knowing that I wanted to work with one of Intel's Haswell-Extreme processors, I went with Asus's Rampage V Extreme board. It's pricey, but had all the features I wanted.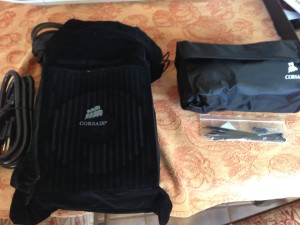 I chose Corsair's HX1050 power supply, rated at 1050 watts with 91% efficiency. It also has modular power connectors, meaning you only have to plug in what you're going to use. This keeps the cable monster somewhat at bay.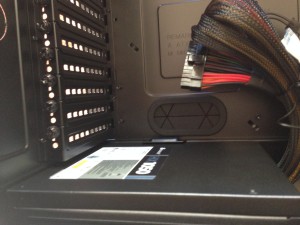 The HX1050 should have plenty of power for additional high-end graphics cards. The power supply fits in a bay at the back bottom of the case, held in by four screws. Do you love the black velvet bag it came in?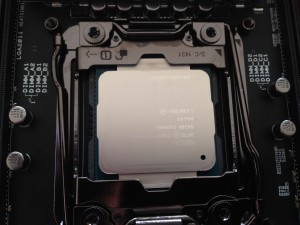 Installing the processor (CPU) onto the motherboard is the most intimidating part of the whole build–at least it was for me–but it's also just about the easiest, as long as you keep yourself grounded. I chose the mid-range Intel Haswell-Extreme 5930K. This processor has an unlocked clock multiplier so it can be overclocked. Stock speed is 3.5GHz, 3.9GHz in Turbo. It has six hyperthreaded cores, for a total of 12 threads. It also features 40 PCIe lanes, enough to support up to 4 graphics cards in SLI. The lower end processor in this series is just as fast, but only has 28 lanes. The higher end processor is faster, having two more cores, but costs almost twice as much at $1050. The middle choice seemed like the best value. Plus, it leaves room to upgrade if necessary.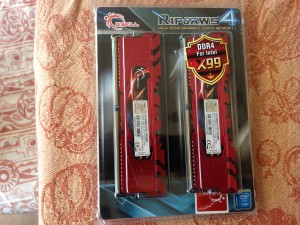 My processor and motherboard use DDR4 memory; they're among the first to support this just-released standard. I wanted to go with DDR4 because it's faster. It also seemed wise to get in at the beginning of a memory standard. DDR3 lasted for about six years. Unfortunately, with my previous machine I got in at the end of DDR2 and suffered for it. I decided not to make that mistake again; another reason why now was a good time for me to build.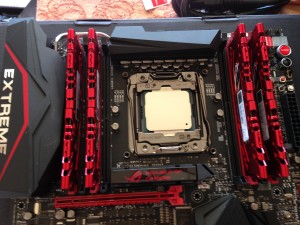 This memory, 16GB G.Skill at 2,666MHz, is more than three times as fast as my old memory. My wife thought it was dead sexy. She loved the red aluminum heat fins especially. My motherboard supports up to 64GB, so there's lots of room for upgrade here.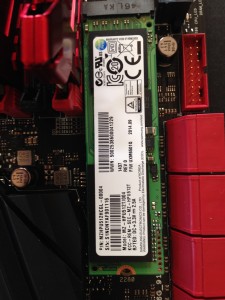 OK, can you guess what this is? It's no bigger than a stick of gum. I'll give a you a second… Here's a hint: M.2.
Give up? It's a Samsung M.2 form factor PCIe, 512GB solid state drive. It fits right onto the motherboard in a connection that supports up to 10x the data transfer speed of SATA, which is the standard connection for hard drives. This drive will push 1,600MB of data per second. I chose it as my boot drive, although many people had written about issues in getting Windows to install to it. I decided to take a chance, since this system is all about speed at value.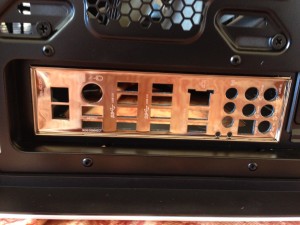 The next step is to install the backplate, which comes with the motherboard and is specific to it. You can see that this motherboard supports lots of USB 2 and 3 connections. It also has built-in Wi-Fi; note the antenna connectors in the third-to-last row. This turned out to be a little tricky to fit, but with enough gentle persuasion it snapped right in.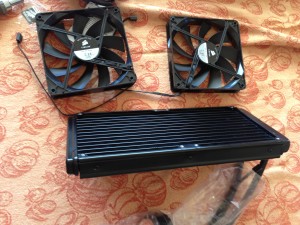 Processors get hot. After all, you're crowding in excess of 135 watts of power into an area of about a square inch. That heat has to be carried away, or the processor will malfunction or even fail altogether. I wanted to be able to overclock, which means even greater power and thus heat, so Intel's stock CPU cooler fan was not going to be enough. I chose Corsair's H110 liquid cooler. It had about the largest radiator I could find at 280x140mm.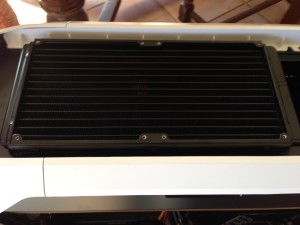 There was plenty of room to install the radiator at the top of the case, but only at the top of the case, contrary to what Corsair claimed. (I had wanted to install at the front, and use intake air for cooling, but that would have required me to remove the drive cage. Nope. Gonna need that for data drives. Lots of data drives.)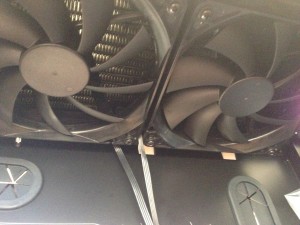 The fans mount just below it and push air up through it. I have two large intake fans at the front of the case to pull fresh air into it.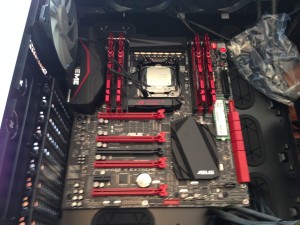 At this point the motherboard, with the CPU, memory, and SSD installed, can be fitted into its spot in the case. It's held down by a number of small screws. This case had a nice feature: a central pin instead of a stand-off at the center of the motherboard. This greatly helped in getting the mobo lined up. I just had to slip the right screw hole over the pin. Screws are tightened, but not too tight.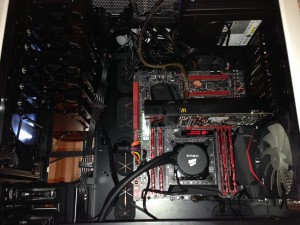 Next came the trickiest part of the whole build: installing the CPU cooler heat block and pump over the CPU. You need thermal paste for this step. Thermal paste is a gray, metallic gunk that ensures good heat transfer between adjacent surfaces; in this case, between the CPU and the CPU cooler. Fortunately, this CPU cooler came with the thermal paste pre-applied, protected by a plastic shield which you remove before installing. To ensure good contact, you have to press it down and leave it in place. It was rather difficult to get the cooler into its retaining ring, and then to screw the ring down onto the motherboard. It took a lot of force to get the screws to engage. After some cussing and discussing, I finally succeeded.
All that remained at this point was to plug in all the connectors. This includes the power supply to the motherboard, the power, reset, and hard disk indicator connections, the CPU- and case-fan power connections, the USB headers for the front-panel USB connections, and the graphics card connections.
I initially tried to use an older graphics card for testing, so I wouldn't have to pull out the old machine from its niche (a real pain) and rip off one of my new cards from it. I should have known better. When I first turned the machine on, I heard an unholy whine and saw nothing on the attached monitor. Naturally I was sure I'd ruined something. I quickly determined that the graphics card was the culprit–I had forgotten to connect the additional power supply. Doing so stopped the whine, but it still didn't work. So I pulled the card and took one out of my old computer.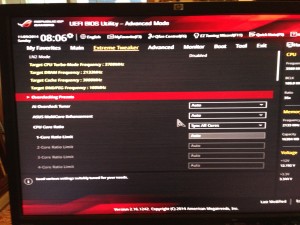 Success! This is the new-look UEFI BIOS that these modern computers have. To date I haven't gotten around to playing with all the settings that are available. I particularly like all the control you have over fan speeds. This system knows where all the fans are, and under what conditions to run them at various speeds.
I also had to install an optical drive. Actually, I didn't have to, but I wanted to. Call me old-school, but all this digital downloading makes me nervous. I also installed ASUS's overclocking panel into the top drive bay; this shows me the CPU speed and temperature at a glance, and just looks cool. I pulled the second graphics card from the old PC and put it into the new one, attaching the SLI bridge cable between the two. Right now I've running twin PNY NVidia GTX660 XLR8or cards with 4GB total graphics memory. Plenty of scope for upgrade here; right now graphics are actually my weakest link, giving me only 4-star performance when everything else is 5-star +.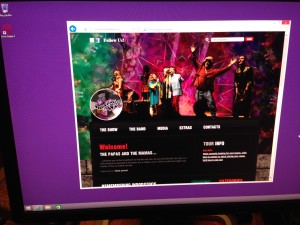 Other folks may have had trouble installing an OS with this drive and motherboard, but for me it went off without a hitch. And the full installation only took 10 minutes. I chose to install Windows 8.1. Most people think it sucks, but I've worked with it for about a year and have gotten used to it, even on a non-touch system. With that said, I'll likely upgrade to Windows 10 as soon as it comes out.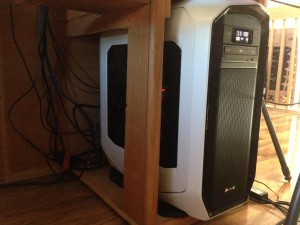 After that, all I had to do was install all my software, which didn't take very long at all, the system is so fast. I pulled all my drives out of the old computer and installed them in the new one. The new computer is now working in the place of the old one, and so far it's been awesome. It boots and wakes up from sleep in seconds, and video rendering is about ten times as fast as my old system. Right now I have it overclocked to 4.2GHz, and it barely gets warm even under load. And it's whisper quiet.
For my next trick… Well, I've got my eye on this stand that will let me add a third monitor. After that…